What if...
there is an early years programme that:
reduces stress

and anxiety of children & staff through our unique "care zones"?

could

EARN

you additional revenue each month?

saves you time

on planning with our digital Timetable that ensures you can implement the programme from day 1

offers access to "mums to be"

BEFORE

they even give birth?

connects the children to

Nature

through our unique garden based activities?

is the brainchild of an

Award Winning

former Nursery Owner!

AND your first month was TOTALLY FREE?
That programme is here
Unique and simple to implement
Helping YOU stand out through small incremental changes that build to make a big difference. Delivered monthly online
Improves Mental Health
Kadamey "Care Zones" are simple, sensory tools that positively influence staff & kids psychological wellbeing
Saves you time
Our Timetable allows you to implement the programme without upfront training & saves you planning time, yet still allows you to tailor it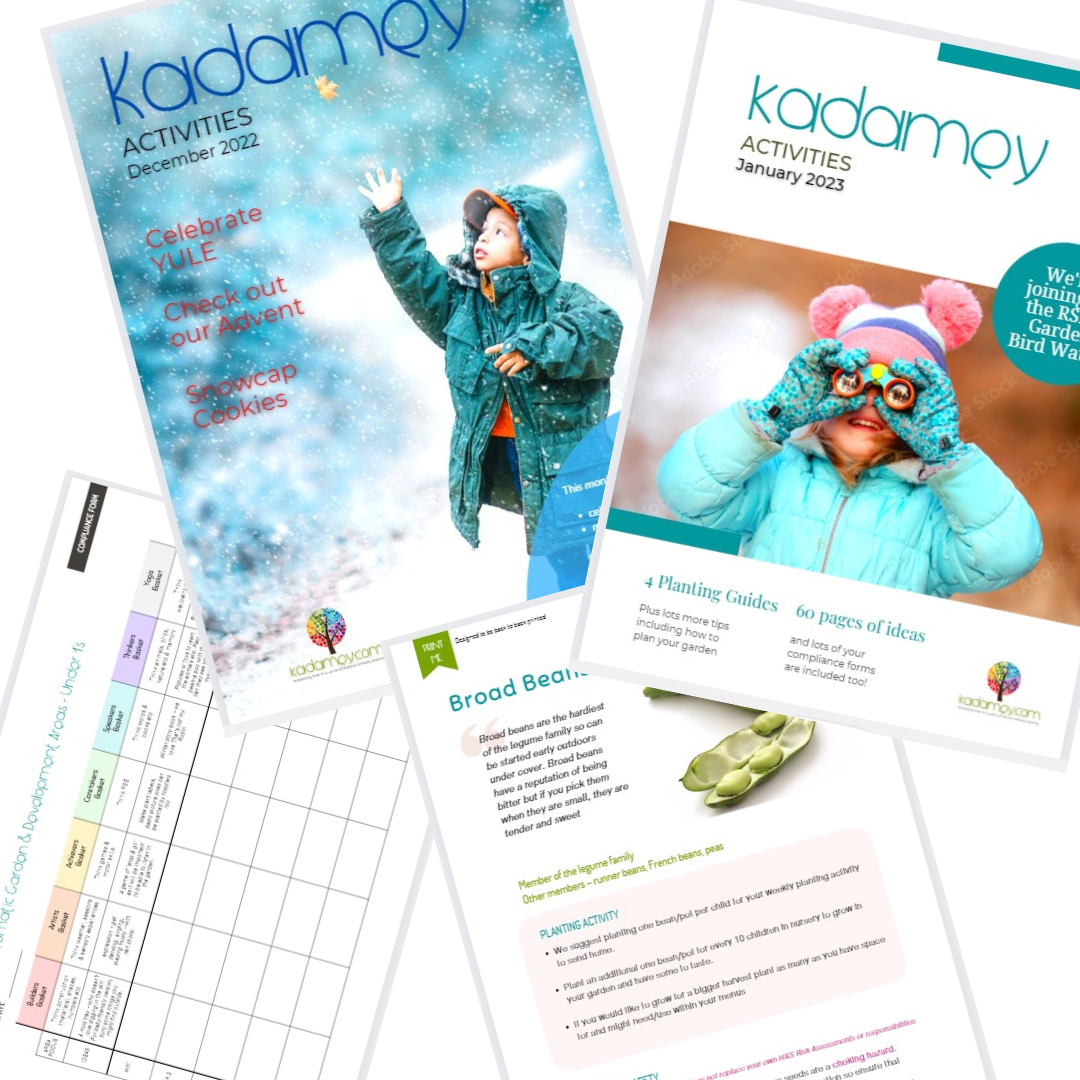 Unique Gardening Concept
Simple planting ideas & garden planning to full self-sufficiency, with Planting Guides & "How to" videos included
Parent Involvement
Supports parents to reinforce learning and development at home & offers opportunities for additional revenue for you
just a few of the ways kadamey can improve your financial and operational stressors
Activity Planning & Compliance forms included
Save time on Activity Planning with our Timetable (updated every month) which ensures you can implement Kadamey without training and OFSTED compliance forms as many of these are included for you. This drastically reduces the time your staff currently spend on these. We also include "join in" monthly LIVE or recorded video sessions.
Reduce wastage and Staff turnover
Reduce wastage costs for resources AND be more enviromentally friendly. Plus our programme NATURALLY reduces both staff and children's stress, resulting in a calmer, happier work environment, thereby reducing staff absences and temporary staff costs
FREE staff training and development included
Immediately reduce your training and development costs, as our programme includes lots of training for FREE!
what is the kadamey experience?
Kadamey is a bit of modern-day magic from the moment the children walk through your doors. A totally connected programme that simply, yet skillfully combines all the right pieces for immersing kids in a world of natural sensory learning. Kadamey flows seamlessly from the outdoors - in.

It works stand-alone but can also work alongside existing programmes you may be enrolled in such as Montessori, Forest School etc.

Every month you receive:
Your done for you digital Timetable - simply add in activities from the lists that support your children's development stage and watch it auto-fill.
Over 60 pages of Ideas, Activities, Gardening advice & Compliance Forms
"How to" videos and LIVE "join in with us" training & activities
Monthly CORE Foundation training for your staff
License to offer Routine in The Womb classes, bringing your target market (prospective parents) into your location before birth
Introduce your parents to

Kadamey for Parents

and earn recurring revenue each month AND tick your OFSTED "Parent Participation" box
6 months of

Angel on Board LITE

Business Coaching for Nurseries
Stress reducers for Children AND Staff built-in
Access to our online community to network, share best practice, hints, tips and advice with other Providers

AND did we mention your first month is TOTALLY FREE?
PLUS your Nursery will be listed on our "Kadamey Providers" map so Parents can find you
License to offer Routine in The Womb and meet mums-to-be early in pregnancy
Angela Andrea
Programme Founder & Marketing Guru
Award winning Nursery Group Owner of 25 years until their sale in 2018. 30 years of Industry experience, she is a Nursery Consultant & Parenting expert. Named one of NMT Magazines top 10 most influential in Childcare 2017 & Parenting Expert of the Year 2019
Tina Hammett (HCoE dip)
IT, Processes & Media Production
Over 35 years of IT & business experience, Tina has had a wide ranging career. She began NLP & Hypnotherapy training at University of East Anglia & now holds equivalent of degree in Psychology. She looks after our IT systems, websites, graphics & media production
Wendy Gordon
Having studied for a degree in Environmental Studies, she obtained a PGCE in Outdoor Education & Geopgraphy before teaching in a secondary school in Bolton. Wendy then went back to her studies, obtaining an RHS qualification at Writtle University
Frequently asked questions
Can I cancel at any time?
Yes, simply adjust your subcription level through your membership area. We will be sad to see you go and you will no longer be able to use any of our materials from the point you cancel.
No! We use information prompts and visual aids as a source of inspiration. When something does require paper it is important that the children see their carer write or draw first as it helps the child's brain learn "how to do it"
Is the Kadamey programme OFSTED compliant?
In short yes and we do produce some "compliance" documentation however, it is always the responsibility of individual providers to demonstrate this in their setting in accordance with the amount of the programme they implement
What if I only implement some of the programme?
Kadamey is designed to be a "whole care" programme and each part naturally enhances the others, so for maximum benefit the programme should ideally be implemented in it's entirety. However, every little bit you can implement will help! Obviously individual results will therefore vary.
Never miss our news.
Subscribe to our newsletter!
Created with